POP! Flavoured blend of black tea, oolong, and fruits. With colourful sugar confetti and popcorn, complimented by the taste of caramel and candied almonds, this tea radiates a good mood. Close your eyes and dream of strolling around the funfair.
Ingredients:
Tea, papaya bits, China Oolong tea, apple bits, naturally covered sugar confetti, macadamia nuts, chopped almonds, popcorn.
Recommended For:
Any sort of celebration. Delicious with sweet foods such as cake! We use this a great deal in baking.
Recommended Brewing Time:
3-5 mins
Recommended Brewing Instructions:
1 tsp per cup
Recommended Water Temperature:
100 degrees Celsius/ 212 degrees Fahrenheit.
Weight:
80g / 2.8oz
Health Matters:
High in the FUN factor! Smiles are good for anyone's health! Contains caffeine.
Customer Reviews
12/14/2021
Soooo excited
I can't tell you how excited I am waiting on my popcorn tea to brew - yum yum yummmers . It smells just like I remember. Thank you
A J.

Ireland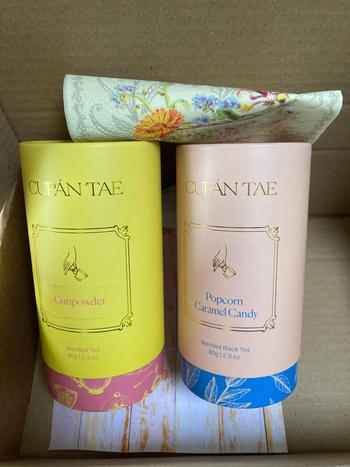 12/14/2021
Popcorn tea Galway heaven :)
I was in this gorgeous shop and had afternoon tea with my little girl and hubbie a couple of years ago. I purchased the popcorn tea to bring home and reordered it for Christmas. It is sooo delicious and unlike any other tea out there. Ordering was seamless, packaging is fabulous & I 100% recommend dealing with this lovely company. Thanks
Annemarie K.

Ireland
08/08/2022
Lovely and Unique
While I have not received my order yet, I did taste Popcorn Caramel Candy tea when I visited Galway in May, and enjoyed the unique and lovely tea. I purchased the tea and brought it home with me. I am nearly out of it, so have ordered more. I have not tasted anything like it here in the States, and look forward to receiving another canister of tea, plus two other teas I did not get to try when I was in Galway 2 1/2 months ago.
05/05/2021
My favorite tea
My parents brought me this tea as a gift from their holiday a couple of years ago and I was so excited to find out that you can order it online, since I loved it so much. It still tastes as amazing as it did a couple of years back. I also loved the packaging and the sweet handwritten note. I will definitely order again!
Anonymous

Germany
03/19/2021
One of my favourites!
Lovely, slightly sweet flavour. On the softer end of the black tea taste spectrum. Highly recommended.
Anonymous

Ireland
12/28/2020
Must-have!
My favorite tea. The popcorn adds a nutty flavor and is well balanced by the sweet notes. I can drink this all the time. A must-have.
Anonymous

United States
12/26/2020
I LOVE THIS TEA SO MUCH!
I got it as a gift and all i have to say is this is one of the yummiest teas ever. And I have tried a LOT of teas! It's the perfect balance of sweet and savoury and it has a wonderful caramel popcorn scent (though i can't quite say it TASTES like it - but it DOES taste amazing).
Michele P.

Ireland
12/26/2020
Absolutely Nostalgic
This tea is delicious and subtle. It smells of buttery sweet popcorn, but is not cloying when you drink it. Perfect for sipping next to a smoky fire on a windswept Irish day!
Anonymous

Ireland
11/14/2020
Popcorn and tea - who knew??
This was one I tried just because it sounded so weird. It has now become one of my favorites with a hint of sweetness and a hint of the popcorn flavor. Who knew popcorn and tea would go so well together??
Trish K.

United States
06/08/2020
Loved it.
Delicious tea. And I was delighted to receive a thoughtful, handwritten thank you note. Thank you Cupan Tae!
Anonymous

United States