A beautifully nostalgic tea that transports us back in time. A precious tea blend of selected black and green teas, perfected with a touch of bergamot and natural vanilla bits. A nice alternative with subtle flavours.
Ingredients:
Black tea, green tea, tea blossoms, vanilla bits.
Recommended for:
Catching up with old friends, take a trip down memory lane with this bouquet of stimulating flavours.
Recommended brewing time:
3-5 mins
Recommended brewing instructions:
1 tsp per cup
Recommended water temperature:
100 degrees Celsius/ 212 degrees Fahrenheit.
Weight:
80g / 2.8oz
Health Matters:
Contains all the benefits of black and green tea combined. Full of antioxidants and natural flavour, you can't go wrong. Contains Caffeine.  
Customer Reviews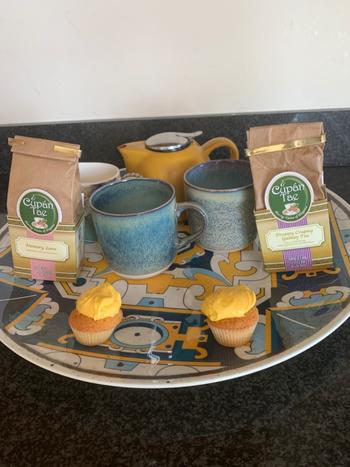 05/30/2020
A Pot of pure perfection
My partner and I were fortunate to visit the Cupán Tae establishment in Westport before Covid got into full swing and we loved the experience. We tried the Dreamy Creamy Galway blend and it was just pure pleasure. The whole experience in the establishment was exquisite to the point I just had to have the tea! So I found your online store and ordered. Within a couple of days I received my Dreamy Creamy Galway tea as well as Memory Lane which is also beautiful. I loved it so much that I ordered for my parents too and the way the order came was just so personal and lovely - handwritten notes to both me and my mum which was very touching and very personal. The way you go about conveying the experience and the personal touch you incorporate is just out of this world. As soon as I get through my tea I will be ordering more! And I will be letting all my friends know about you! Keep up the fabulous work and nice touches - you have something special here!!
Wayne M.

Ireland
03/14/2021
So good!!!!
I bought this tea on a whim with my last order, and it's absolutely delicious. I'm going to have to order some more.
Jamie K.

United States
02/07/2021
delicious
amazing... tastes like a hug feels
Shae

United States
12/07/2020
taste of Ireland
Brings me back to Galway
Laurie S.

United States
07/10/2020
tea from ireland
good, tasty and joyful. nice to drink sometimes. may be to drink with fresh milk.
Anonymous

Germany
05/11/2020
Delicious and aptly named
My favorite and first tea from Cupán Tae! I first had it on my study abroad trip to Ireland in summer 2018 and it's a staple in my tea supply now. It's delicately floral like a green tea but has the rich, satisfying smoothness of a black tea too!
Hannah V.

United States