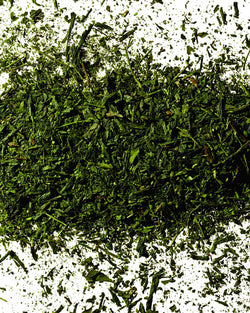 A classic amongst Japanese teas. The leaves are picked after the Sencha harvest and traditionally served in Japan as an accompaniment to meals.
Sensory facts:
Coarse, light green leaf, pressed flat. Bright and light infusion, well-balanced and mild.
*Certified organic, DE-ÖKO-001
Recommended for: 
A good everyday green tea, may be served with food.
Recommended brewing time:
2-3 min
Recommended brewing instructions:
1 heaped tsp. per cup
Recommended water temperature:
70 degrees Celsius/ 158 degrees Fahrenheit
Weight:
80g / 2.8oz
Health Matters:
Low in caffeine. High in catechins, known to protect the body from oxidative stress of free radicals.  
Customer Reviews
12/03/2021
I've got this tea beautiful packed, I wasn't expected , delivered so fast. I will reply my order constantly, thank you very much !!!
I've got this tea beautiful packed, I wasn't expected , delivered so fast. I will reply my order constantly, thank you very much
Irena

Ireland