Good old fashioned "normal" breakfast tea. Of course with our normal tea being the highest quality blends of Assam leaves. Full-bodied, robust and rich, this tea is blended to go well with milk and sugar, a style traditionally associated with a hearty Irish breakfast tea.
Sensory Facts:
Medium sized leaf, medium proportion of tips. Medium-Strong, well balanced, aromatic.
Recommended for:
Traditional breakfast tea drinkers. It's the most consumed drink in Ireland! (After Guinness!) As Irish people well know, it can be sipped at any time of day with any type of food, but tastes particularly good with a digestive biscuit or two.
Recommended brewing time:
2-4 mins
Recommended brewing instructions:
1 tsp per cup
Recommended water temperature:
100 degrees Celsius/ 212 degrees Fahrenheit.
Weight:
80g / 2.8oz
Health Matters:
Naturally high in antioxidants. Contains caffeine. Known to cause smiling.
Customer Reviews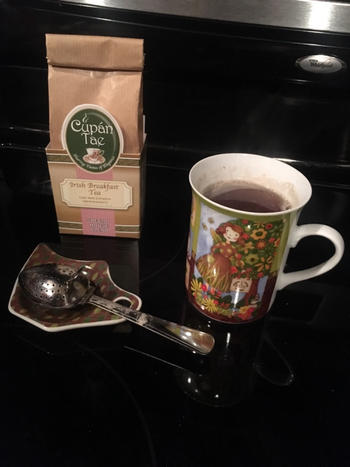 11/09/2020
My morning comfort
The Irish Breakfast tea helps get me going in the morning. It's delicious!
Elizabeth H.

United States
02/07/2022
Irish Breakfast tea
My daughter visited Cupan Tae three years ago. She brought home some Dreamy Creamy tea, which we loved. For Christmas this year she bought me a gift certificate. I tried to order some of this tea again but it was out of stock. I drink breakfast tea, so I decided to try it, along with three others that were in stock. It has been cold and snowy here in the state of Michigan since the teas came last week. I have been enjoying the Irish Breakfast tea every morning and throughout the day. Though it's regular breakfast tea and not the Dreamy Creamy tea we remembered from three years ago, it'***** the spot on these snowy winter days! I already know what I'll ask for next year for Christmas....more Cupan Tae!!!!
David R.

United States
12/07/2021
The teas are amazing!!
My mother use to visit Ireland once or twice a year and would always stop here for tea. Since COVID has prevented her from being able to travel for now, we wanted to bring some tea to her for Christmas! She's tried most of your teas during her visits but the Irish Breakfast and Christmas Cheer are her favorites. She's even brought some home from past visits for us to try and they are amazing! Thank you for having an option to ship overseas. I'm so excited to give her some of her Ireland memories on Christmas morning!
Laurel M.

United States
11/05/2021
Mellow Mornings…
…begin with Irish Breakfast Tea. This blend is soothing and warming. The flavor is rich, yet mellow….and the packaging just brings a smile. Thank you, my Irish friends, for shipping this all the way to Michigan!
Kim E.

United States
07/19/2021
Yummy
Yummy! Good black tea!!
Jill C.

United States
04/11/2021
Michael B.

United States
03/15/2021
My Favorite Tea on the Planet
A sip of this tea can turn a day around. It just makes me happy.
Anonymous

United States
03/14/2021
Must have
A must have tea in every kitchen!
Jamie K.

United States
01/03/2021
Great Breakfast Tea
Makes a wonderful, full bodied tea
Patricia M.

United States
11/15/2020
Industrial Strength Breakfast Tea
My late Uncle John worked as a joiner & roof builder in all weathers. He never went to work without'a screech in the pan' - a cooked breakfast and a cup of tea so strong you could stand a spoon up straight in it. The magnificent Cupan Tae breakfast tea reminds me of my late Uncle John at the table in his braces & his loveing wife Maggie who dished up those epic meals and the endless pots of tea that could launch a battleship.
Anonymous

Ireland
10/08/2020
Irish Breakfast Tea
I love this the Irish Breakfast! It's smooth and delicious. It brings me back to Galway! I've been treating myself to 2 cups every morning since I visited my son in Galway 4 years ago and came upon your lovely tea store.
Mona M.

United States
09/27/2020
Taste of Ireland
We love our loose teas from Cupán Tae ! As time goes on we are trying more from their vast selection. We can't decide which is our favourite, Irish Breakfast, Dreamy Creamy Galway or Emerald Isle. We are never disappointed and our orders are shipped quickly! Always a treat!
Annie R.

Canada
08/12/2020
For special moments
I love it i love the ritual of making it and taking time to drink it.
elaine h.

Ireland
07/24/2020
Wonderful experience!!
Loved getting tea delivered here in the US! We are sad we cannot go to Ireland this year (my daughter went to school there and we miss it) so the next best thing was getting a taste of Galway delivered. The kind note enclosed was wonderful and made it so person!! Many thanks!!!
susan b.

United States
07/19/2020
Lovely tea and lovely service!
We bought (again) Irish breakfast tea and Creamy Dreamy Galway tea - both were excellent. I find them more mellow than the usual, supermarket teas, but not insipid (I'm quite picky about my tea!). They came with a lovely hand-written note which made us smile. We'll be ordering more soon.
Anonymous

United Kingdom
06/27/2020
A taste of Ireland
As always, we are extremely happy with our tea purchase. We started ordering the Irish Breakfast tea but as time has gone on, we have tried other blends and have NEVER been disappointed. We are currently enjoying Emerald Isle and Creamy Dreamy Galway Blend. A taste of Ireland until our next trip to Galway and Cupán Tae!
Anonymous

Canada
06/07/2020
Smooth and bold
Love this tea! Highly reocmmend
Paul B.

United States
06/04/2020
Just Great!
I really look forward to a piping hot cup of this tea. Pair this Irish Breakfast tea with a scone right out of the oven and you have perfection! I live in the USA and I take the time to order Irish Breakfast tea from Cupan Tae because it is by far my favorite.
Anonymous

United States
05/11/2020
Family favorite
A classic, brilliantly done! I've had dozens of other Irish breakfast teas, but none quite compare to this one. It's robust, comforting, and proudly proclaims that special something that sets an Irish breakfast blend apart from an English or Parisian breakfast. I brewed it for a Mother's Day tea and my mom loved it too! Brought back good memories of Ireland for both of us.
Hannah V.

United States