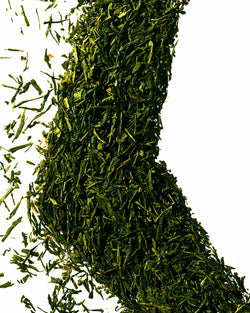 This tea is processed using the steaming method. The "shaping " process that precedes the drying gives the tea its characteristic leaf shape.
Sensory facts:
Light green leaf, pressed flat. Light yellow infusion, aromatic and fresh.
Weight:
80g / 2.8oz
Recommended for:
Those with a delicate palate, a lighter fresh flavoured green tea.
Recommended brewing time:  
2-3 min
Recommended brewing instructions:
1 heaped tsp
Recommended water temperature:
70 degrees Celsius/ 158 degrees Fahrenheit