Cheers! Or Sláinte as we say in Ireland! A naturally flavoured blend of white tea, green tea and fruits. The look of this precious blend of Mao Feng and Pai Mu Tan is crowned by a variety of selected fruits. The bouquet of natural grape and rose flavours melts into a real taste pleasure. The perfect substitute for champagne...without the bubbles! (Or the alcohol!)
Ingredients:
Tea, pineapple bits, apple bits, hibiscus, coconut chips, liquorice, apple slices, natural flavour, grapes, rose petals, peony petals.
Recommended for: 
Any kind of celebration, reminiscent of a crisp glass of champagne. Toast the bride to be, the expectant mom, or any special occasion worthy of a treat.
Weight:
80g / 2.8oz
Recommended brewing time:
2-3 mins
Recommended brewing instructions:
1 tsp per cup
Recommended water temperature:
100 degrees Celsius/ 212 degrees Fahrenheit
Health Matters:
White tea is known to have antioxidant and anti-aging properties which help in maintaining good health and healthy skin. It may also protect skin from the harmful effects of UV light. Contains Caffeine.
Customer Reviews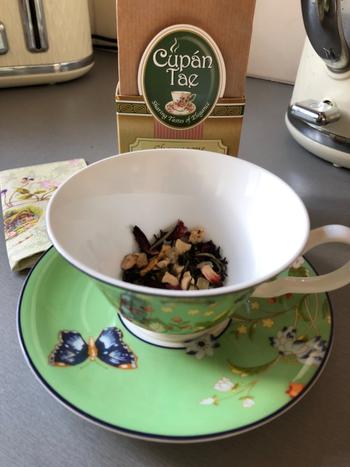 08/08/2020
Delicious Surprise!
If you like your Cupan Tea blends, you'll enjoy this. Fragrant, sweet delicious with a scone!
Anonymous

Ireland
08/20/2021
Perfect
Aromatic and a perfect Way to start my day.
Patti G.

United States
12/13/2020
Always the best!
It is always hard to decide what is my favorite Cupán Tae experience. Whether it is ordering my tea, waiting for the package, or the first sip, I am never disappointed. I love your teas, the biggest decision is which one to drink each morning. Simply the best way to start my day.
Patti G.

United States
10/29/2020
Best Tea Ever!
I first tasted the Champagne Bouquet tea when I visited Cupan Tae last summer while on a trip to Galway. I fell in love instantly! It has a subtle floral aroma and taste that seems to get better with every sip. Every time I brew this lovely white tea, I am transported back to Galway.
Nancy L.

United States
07/08/2020
Delicious
Oh the aroma , is delightful . The taste nice and smooth. Delicious cup of tea good for any time
Claudia V.

United States