Flavoured blend of black tea and spices. In the Orient the name "Chai" describes nearly every kind of tea. This tea creation originates from the Indian tradition and has a very intensive and fresh, spicy taste due to the variety of aromatic spices. A light orange flavour.
Ingredients:
Tea (60%), pepper, cinnamon, cardamom, ginger, and cloves.
Recommended For:
Comfort from the cold, the spices added to this black tea will invigorate and stimulate. May be served black or with milk/cream/sugar if desired.
Recommended Brewing Time:
3-5 mins
Recommended Brewing Instructions:
1 tsp per cup
Recommended Water Temperature:
100 degrees Celsius/ 212 degrees Fahrenheit
Weight:
80g / 2.8oz
Health Matters:
Contains caffeine. Suggested to support good digestion and improve circulation.
Customer Reviews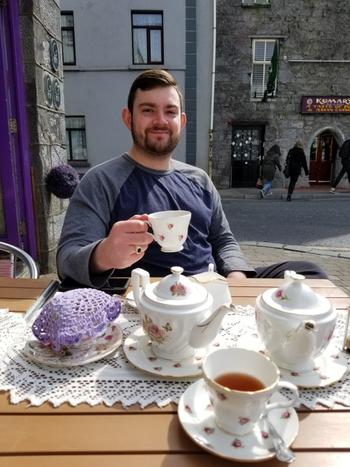 05/24/2020
Galway memories
My shipment of your wonderful teas was well worth the wait! Just sipping my Cherished Cherry, Oriental Chai and of course, Truffle Kerfuffel immediately took me back to Ireland and sipping tea on the sidewalk in Galway last year. Thank you for your immaculate packing, beautiful presentation and sweet note when I opened the box. I'll be ordering again!
Robert P.

United States
12/08/2021
Always a treat
Whether drinking a cup of Oriental Chai by myself or sharing one with a friend, it is always delightful! Along with the Champagne Bouquet it is a favorite at our house.
Patti G.

United States
08/20/2021
Cupán Tae teas are a magical way to start the day
Spicy and delicious.
Patti G.

United States
04/13/2021
Oriental Chai
Warming , delicious the most amazing cuppa especially first thing in the morning
Agnes H.

Ireland
12/31/2020
Great! More please
M says this is a lovely tea with lots of clove/cinnamon/spice flavours best enjoyed with a spot of milk. Also highly commend the Dreamy creamy/Truffle and the Assam. Thanks to incompetent governments we can't enjoy the teas -and the Courgette and Lime cage, not to mention the Coffee and Walnut in An Cupan Tae in Galway. Will order more on line. Meanwhile Happy New Year to Allison and all at Cupan Tae.
James G.

United Kingdom