Flavoured blend of rooibos tea and spices. In this rooibos tea composition, premium spices and fine cocoa kernels are refined with a delicate chocolate taste. With a blob of cream, a low-calorie alternative to the popular classic.
Ingredients:
Cocoa kernels (27%), cinnamon, rooibos tea, cardamom, ginger, chicory root, pepper.
Recommended For:
A delicious chocolaty sweet treat! We combine a wonderful warming blend of spices with smooth cocoa.  
Recommended Brewing Instructions:
1 tsp per cup
Recommended Brewing Time:
6-8 min
Recommended Water Temperature:
100 degrees Celsius/ 212 degrees Fahrenheit.
Weight:
80g / 2.8oz
Health Matters:
Caffeine free.
Customer Reviews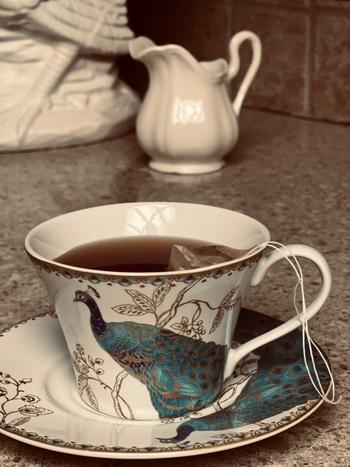 02/07/2022
Spicy Chocolate Kiss
It's a way to have a warm delightful chocolate drink without the sugar and calories of hot chocolate!
Anonymous

United States
09/23/2021
What a beautiful tea!!!
I have always liked yogi teas choco. This is reminiscent of that but so much better. There is more bite from the pepper ( I think) which makes it really warming. Over all just a beautiful tea. Will get more.
03/17/2021
Amazingly good smell!!
I found this tea is incredibly tasty in every sip. I was wondering what can make this tea so tasty. The blend is successful and I think I really like cardamon. They are blended generously and match perfectly with other ingredients!
Hana

Japan
09/19/2020
Back for seconds
My wife and I went visited Ireland for our honeymoon. She is a tea lover and she introduced me... We had high tea at ashford, visited Galway and found Cupan Tea! We had this one - it reminds me of spicy hot chocolate and it is in many of our dark home blends. We also recommend dreamy creamy!
David S.

United States
07/02/2020
Quality Product with Friendly Service
I am from the States and ordered 5 bags of tea, all were great but this one was my favorite! This drink, when mixed with milk, has a nice sweet cinnamon taste without being overpowering. It also reminds me of fall, which I love! Shipping was quick and arrived with a nice handwritten note thanking me for my order and wishing me well. We will definitely be ordering from here again!
Brooke

United States
05/30/2020
Delightful tea!
I love the scent & flavor of this tea for any time of day! I enjoy it most with a splash of milk.
Rina S.

United States