NO1 in the global charts...our best selling tea!
Blended especially for Cupán Tae, this house favourite is as tasty as it is unique. A fanciful blend of black tea, roasted coffee beans, jasmine flowers and natural aroma, it's as dreamy as it is creamy. With a subtle coffee flavour, this chart-topper is what dreams are made of. A firm favourite amongst us Galway gals!
Ingredients:
Black tea, coffee beans and jasmine flowers.
Recommended for: 
Those who enjoy cream tea and the traditional tea and scone combo. This tea seems to go with everything and can be enjoyed with both sweet and savoury options.
Recommended brewing Time:
2-5 mins
Recommended Brewing Instructions:
1 tsp per cup
Recommended water Temperature:
100 degrees Celsius / 212 degrees Fahrenheit
Health Matters:
High in polyphenols, high in antioxidants, high in the happiness factor! Well if it makes you smile... Contains caffeine.
Customer Reviews
11/26/2020
Carol J.
United States
From Galway to Florida!
Our daughter and her husband enjoyed this tea on their Irish honeymoon! They said it was the best ever! Well they were right! We found Cupan Tae on the internet and placed a surprise order for them to include in their Christmas package to Austin, Texas. We also had to sample a package for ourselves in Florida, as we somehow missed your shoppe when visiting Ireland Dreamy, Creamy is the most delicious tea ever! Its blend is so unique having some coffee beans, jasmine mixed among the loose tea..Delicious tea! THIS IS THE BEST OF THE BEST! So happy you ship across the pond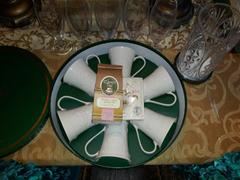 11/25/2020
Suzanne M.
Ireland
Fab, as always
We love our Dreamy Creamy tea. Order every few months. Tastes amazing and the service is always great from Cupán Tae. Love love love.
10/29/2020
Jacquelyn F.
United States
My favorite tea!
Ever since visiting Ireland from the U.S. and having a pot of this tea I have been ordering to make sure I have a constant supply. My day just doesn't begin right without a cup of Dreamy Creamy Galway tea and with milk and honey!
10/22/2020
isabelle L.
France
le meilleur thé du monde the best tea in the world
que du bonheur ce thé what hapiness this tea il est doux et généreux rond un rêve it's sweet round generous ..a dream il porte bien son nom de la crème...it s aptly named it was delivered to me in France thank you,very much il est livré partout et je suis contente qu'il soit venu en France il me tarde de le boire à Galway i would like to drink it again in galway
10/19/2020
Janet C.
Canada
Dreamy Galway Tea
I was very touched when I received my Galway Tea from Cupan Tea since a handwritten note was inside the package. I was very touched that someone would take the time and effort to show their appreciation for my purchase and business. It made me feel like I was dealing with an individuals who loves tea as much as I do. The Dreamy Galway Tea is as delicious as I remember it to be in Galway. Thank you
10/19/2020
Jaime K.
United States
New Favorite Tea
My daughter brought back a bag of this delightful tea from her trip to Ireland. I finished it a couple weeks ago and just purchased my first (of many) replacements. It is truly delicious!
10/14/2020
Simon M.
United Kingdom
'Brewming' good!
First sampled in the Galway tea shop. Recently shipped to England as a gift for my wife who does not drink tea normally but loves this! Unique taste.......reminds us of happy days spent in Ireland.Hope we can return soon!
10/05/2020
Samantha M.
United States
The Most Comforting Tea
I am absolutely head over heels for this tea. I visited Galway in January of 2020 and had this tea in the store. I loved it so much that I'm ordering it now from America- and it's worth every single penny. It's creamy, comforting, and delicious! The owners were also so cute and sent a little napkin and note which made the purchase even more personal. Every time I drink the tea it reminds me of my time in Ireland.
10/03/2020
KAITLIN N.
United States
Trip to Ireland in a Cup
It's the closest that I'll get to Ireland during these times. It's Ireland in a cup of tea!
09/27/2020
Deborah K.
United States
Great way to start the morning before work
I really like this one as a coffee replacement in the morning. The full bodied coffee taste really comes though, and is not overly sweet or bitter. Tasty and gives me that familiar coffee taste and caffeine to get going in the morning without the anxiousness.
09/18/2020
TheresaS
United States
Best tea I've ever had!
LOVE this tea!! I've been ordering this blend for years now. This is what I drink every single day (and some of the other Cupan Tae blends as well), and it is the best part of my morning! This brand and blend are exceptional. Some other teas give me a bit of a headache but I never have an issue with any of the Cupán Tae blends. These teas bring me so much joy! :) You won't be disappointed if order!
NF
09/04/2020
nick f.
Canada
08/28/2020
Sarah M.
United States
Excellent Tea!
I didn't know what to expect with the coffee beans and black tea but they work so well together, it cannot be beat. There's a hint of smokiness, I think, an earthiness that I can't fully describe, but I love it. Will definitely be ordering this one again!
08/10/2020
Geraldine A.
United States
My love affair began 3 years ago
3 years ago, when I visited Galway. I fell in love with not only Galway, but my visit to Cupán Tae and Dreamy creamy Galway Tea. Since I brought it home to Los Angeles from my trip, my cupboard has never been missing this tea. I drink it every morning savoring the flavors and dreaming of my next visit to Galway. I love the little notes I receive in the package every time I get a new shipment. Ahhh. Sipping it now. Thanks you for making my favorite tea. Hope to see you soon.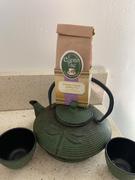 07/19/2020
Cheri G.
United States
Remembering our visit
We love this blend! When we were in Galway we tritd 3 different tea blends and chose this to bring home. It's a great wake-up tea!
07/19/2020
Karine E.
United Kingdom
My favorite tea!
My fav tea ever! Love the cafe taste! I can drink this all day!
07/04/2020
Catherine E.
Netherlands
Tea to convert coffee lovers
I originally bought this tea for my pregnant, coffee addicted sister. Two years later I still get regular requests from her and my mother to ship them more of this amazing tea! A great pick me up and solid flavour profile.
06/29/2020
Rebecca D.
Ireland
Tea perfected
It is the ultimate tea to perk you up in the morning, great depth of flavour. There is always a bag of this tea in the house
06/27/2020
Sue I.
United States
Fabulous tea!
I first experienced Dreamy Creamy Galway Tea when my nephew brought me a box back from Ireland. I fell in love with this tea! The jasmine adds a lilt to the flavor . Dreamy Creamy Galway is such a smooth, pleasant cup of tea! I have ordered twice over the last year to replenish this tea!
06/24/2020
Rachel B.
United States
Favorite favorite tea!
I remember trying this in Galway and being floored by how different and delicious this tea is. I bought a bag to take home and as soon as I started running low my sisters and I placed a large order to make sure we don't go without! I can't wait to return.