Flavoured blend of rooibos tea and spices. Delicate cocoa kernels lap around the mild taste of rooibos and exotic coconut. A heavenly experience.

Ingredients:
Rooibos tea, cocoa kernels (30%), coconut chips (8%), flavour, carob bits.
Recommended for: 
An evening treat, this fun tea is sure to delight. Silky hints of chocolate and coconut make this a special treat. May be served with milk/cream/sugar.
Recommended brewing time:
6-8 mins
Recommended brewing instructions:
1 tsp per cup
Recommended water temperature:
100 degrees Celsius/ 212 degrees Fahrenheit
Weight:
80g / 2.8oz
Health Matters:
Rooibos can encourage proper liver functioning and therefore possibly inhibit fatty liver disease from developing. Sometimes helpful the morning after the night before. Caffeine free.
Customer Reviews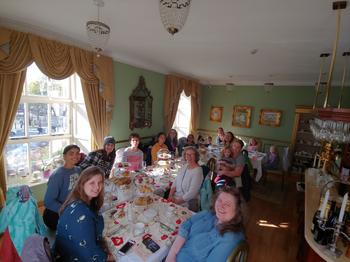 12/17/2020
I am Loco for Coco
I bought several different kinds of teas, many I haven't tried yet, to make up baskets for my sisters and friends. I arranged the teas in pretty little jars so everyone got to try a few different teas. I saved enough from each that I would get to try them all, too. I'm just now trying Loco for Coco and have come to regret sharing it with the others! I think this would be perfect for a Minnesota snow day! I can see I will need to place another order!
Juanita B.

United States
09/03/2021
Amazing Flavor!
This is my 2nd time purchasing and I had to stock up on this delicious tea!
05/26/2021
AMAZING
This is by far one of my favorite teas! It smells a little sweeter than it tastes, and is the perfect tea for the evening. I will definitely be buying a lot more this fall/winter!
Lauren A.

United States
05/06/2021
Surprisngly lovely
At first sniff I thought that the Loco For Coco was too coconutty however at first taste that fear was dispelled. For me this tea works when I want to distract myself from snacking. Instead of reaching for a snack late in the evening I instead make a pot of this tea for two and it seems to settle us both, without any sweet treats being involved.
Miriam S.

Ireland
06/05/2020
A sweet treat
Loco For Coco is perfect for serving with a dessert or just as a lovely treat in the afternoon.
Anonymous

United States
06/01/2020
Seriously delicious
I've found a new favorite tea of all time, and it's the perfect combination of rooibos, coconut, and cacao. I live in NY, but this certainly won't stop me from ordering this treat. It's great on its own or with milk and just a tad bit of sugar.
05/11/2020
Divine!
Chocolate, coconut and rooibos - what's not to love?
Anonymous

Ireland