Step back onto Irish soil and enjoy a spot of Irishness in a cup! A full bodied blend with the characteristic tastes of whiskey and cocoa, topped off with a gentle touch of vanilla – a blend that evokes memories of Ireland and tastes of the West.
Ingredients:
Tea, cocoa kernels.
Weight:
80g / 2.8oz
Recommended for: 
Pairing with dessert, may be served with milk/cream/sugar. 
Recommended brewing time:
3-5 mins
Recommended brewing instructions:
1 tsp per cup
Recommended water temperature:
100 degrees Celsius/ 212 degrees Fahrenheit
Health Matters:
High in antioxidants. High in polyphenols. Contains Caffeine.
Customer Reviews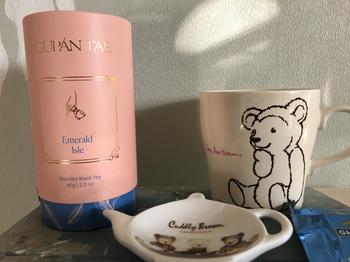 01/20/2021
My favorite tea
This is the one I like the most among black tea of Cupan Tae :) I can't help sharing this tea with anyone near me whenever I make it. The smell is so good. Sophisticated combination of perfumes. I love it especially in cold day.
Hana

Japan
05/06/2021
Amazing Tea and Amazing Service
My favourite tea by far. Honestly cannot get enough of this stuff. The new packaging is so cute and practical. Honestly will never buy my tea from anywhere else.
Kate D.

Ireland
05/02/2021
Reminded us of our trip.
The time we spent in your tea shop was a delight. Being able to sip the same tea at home brings back memories of the hospitality in Galway.
Anonymous

United States
05/02/2021
Exquisite
On a visit to Ireland, our stop in Galway brought about a chance encounter with Cupan Tae. We chose Emerald Isle as our tea. The entire trip was memorable, with this tea as an exquisite highlight of the journey. It's a challenge to choose a single favorite tea, but Emerald Isle is certainly a prime candidate for that status.
Richard J.

United States
04/17/2021
Emerald Isle
This is one of our 2 favourite tea selections from Cupan Tae. Love everything about Emerald Isle and Dreamy Creamy Galway Teas.
Annie R.

Canada
04/11/2021
Michael B.

United States
03/18/2021
This tea is the very best - it's like a cup of love from Galway!!
Not only does this tea taste amazing it's like a cup of love and reminds me of my wonderful visit to Galway and to your beautiful shop!!
Heidi M.

United States
03/17/2021
My Most Favorite Tea!
I stumbled on this little tea shop on my honeymoon in 2017. Dragged my poor husband in to sit in lovely room and share some tea with me. We ordered a pot of this tea and some pastries and I was hooked! Now I order this fairly frequently. I think of it as a little taste of Galway at home.
Doreen

United States
01/02/2021
So Good!
I visited Ireland a couple years ago and love Cupan Tae! I ordered a few new teas to try and Emerald Isle is so good! It's smooth, rich and has some very strong but comforting tones. I'll definitely buy again!
Laura R.

United States
12/28/2020
Missing Ireland with this tea
Delicious and fragrant blend. The tea is not very astringent, and takes milk well.
Anonymous

United States
12/20/2020
Love this tea!
Love the slight taste of whiskey and chocolate in this tea!!! I fell in love with it in my first trip to Ireland in 2019!!! Can't wait to visit again!!!
Amy E.

United States
12/19/2020
Emerald Isle
Our weekend treat, relaxing with a cup of Cupan Tar's Emerald Isle tea. It's perfect with just a hint of whisky, coco and vanilla, and no hassle shipping. What could be better as winter takes its hold here in Canada?
Annie R.

Canada
12/13/2020
Delicious
Tastes as described. Just a hint of chocolate, full bodied and smooth. Definitely will be getting more.
Nikkib

United States
12/13/2020
Fabulous
Excellent Earl Grey tea. Smooth and flavorful, just as an Earl Grey should be. I will be buying more!
Nikkib

United States
12/07/2020
Exquisite
In a word, exquisite! I'm hooked.
Anonymous

United States
10/03/2020
The best
My favorite, a real treat
Katelyn C.

United States
09/29/2020
Splendid!
Favourite cuppa ever!
Daria R.

United Kingdom
08/13/2020
A staple in our home
Emerald Isle tea is absolutely delicious! We visited Cupán Tae in November of 2019 and we have continued to keep their tea stocked in our pantry ever since. Emerald Isle is a wonderful tea for any time of day and I'd highly recommend it to anyone thinking of giving it a go.
JK
Jake K.

United States
08/10/2020
Joy of Emerald Isle in a cup!
Think soothing, calming ,warming with a hint of sweetness to tease the senses. An excellent tea , joy in a cup! An excellent product, I hope it is sold across the globe so we can share the joy of an Irish cup of tea until we can drink tea together with all our family and friends!
Maura B.

Ireland
08/10/2020
Wonderful Tea
This tea is really good tasting and has a great aroma as well. My son gave me some Cherished Cherry tea and it is also fantastic! The Galway store is very nice and so are the staff!
Greg T.

United States