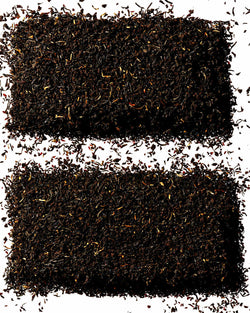 Assam Broken Orange Pekoe
This unflavoured black tea contains a blend of different leaves from the summer harvest. The Assam leaf is known for its strong, malty and aromatic leaf with rich body.

By breaking the leaves (OP= Orange Pekoe), the leaf surface-area increases and allows the tannins to be released faster.

This broken Assam leaf will provide you with a rich level of desirable harshness. The slightly tangy, yet malty aftertaste is typical of this leaf.

Sensory facts:
Small, broken tea leaf, medium proportion of tips. Malty.
Recommended for: 
An ideal infusion for those who like their tea with milk or cream, and sugar. Often had as a breakfast tea.
Weight:
80g / 2.8oz
Recommended brewing time: 

2-5 minutes
Recommended brewing instructions:
1 tsp per cup
Recommended water temperature:
90-100 degrees celsius / 195-212 degrees fahrenheit 
Health matters: 
It contains caffeine, vitamin B1 and is a rich source of antioxidants which protect our bodies from free radicals.