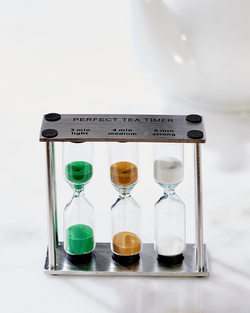 On your marks, get set, GO! Watching the clock is never fun, but with our novel tea timers, keeping an eye on the time isn't so bad. Whether it's a black, green or herbal tea, we have a timer that allows you to achieve the ideal brewing time for your tea.
Customer Reviews
09/10/2021
The best tea timer!!!!
We really enjoyed our afternoon tea at the shop when we visited Galway. Since then every time I discover a person who enjoys tea , but doesn't have a tea timer, I purchase these timers for them, because I like them a lot.
08/20/2021
Cupán Tae Never Disappoints!
I brewed the perfect cup Champagne Bouquet this morning using my new timer! What a lovely way to start my morning.
Patti G.

United States
05/14/2020
Eye-catching tea timer
The latest eye-catcher on my tea table is this multi coloured tea timer. My guests are always astonished when seeing it for the first time. The biggest surprise is that the indicated times are correct.
Astrid L.

Germany